Anno nuovo, vecchia Private Records. Il nutrito catalogo dell'etichetta berlinese si arricchisce di un misterioso titolo: "SKW" (2016), una raccolta di versioni estese e inediti degli Schaltkreis Wassermann. Il duo, composto dagli svizzeri Daniela e Peter Wassermann, è stato attivo nei primissimi anni Ottanta, pubblicando un album, "Psychotron" (1982), sulla propria label, Space-Records, e un trittico di singoli. Dopodiché la coppia di artisti ha preferito ricorrere ad alias quali Eternal Bliss e Matterhorn per firmare i successivi lavori.

Tutti assimilati a una matrice synth-pop, genere allora assai in voga, e minimalisti sul piano compositivo. Il cuore del progetto è stato, però, sempre meccanico. Lo stesso "SKW", figlio legittimo delle registrazioni di "Psychotron", poggia le sue solide fondamenta su un equipaggiamento da studio composto da ARP 2600, ARP Avatar, Roland 100M, Sequential Circuits, Prophet V e, immancabile, Roland Space Echo. E lo stesso pseudonimo, Schaltkreiss Wassermann, è legato a doppio filo a questi macchinari.
Ogni sintetizzatore consiste di un numero di circuiti interconnessi che compongono un più grande, nonché complesso, apparecchio. Nel nostro Space-Sound-Studio avevamo una miriade di circuiti collegati a un sistema globale: questo era lo Schaltkreis Wassermann (in italiano, 'Circuito Acquario, N.d.R.). Qui potevamo programmare sintetizzatori giorno e notte e affinare i suoni come volevamo. Siamo stati in grado di costruire anche le nostre stesse attrezzature.

I suoni elettronici ci riguardavano molto più da vicino di tutto ciò che è fatto con strumenti convenzionali. Alcuni suoni sembrano influenzare direttamente alcune parti del cervello e cambiare immediatamente e in modo sostenibile la coscienza di sé. L'elettronica è stata la sfida creativa totale per noi. Non è stato più il virtuosismo del musicista a essere importante, erano solo più veloci i computer e la fantasia, l'immaginare e realizzare nuovi suoni, rimaneva centrale.

Come compositori, non abbiamo avuto bisogno di un'orchestra sinfonica, perché con l'ausilio di registratori multi-traccia potevamo tratteggiare paesaggi sonori più eterogenei. E una batteria elettronica deve suonare diversa da un set di batteria acustica. Noi volevamo qualcosa di nuovo. Abbiamo perciò lavorato duramente e a lungo sul nostro sound. Volevamo che anche dopo una dozzina di ascolti la nostra musica fosse ancora come una nuova scoperta.
Una condizione propria anche degli ascoltatori pronti ad approcciarsi oggigiorno a "SKW". Una release in doppio vinile curata da Janis Nowacki nei minimi dettagli e arricchita da adesivo, note di copertina e poster. Il suo packaging è sempre impeccabile. Ciò nonostante, la vera nota di merito per il proprietario dell'etichetta sta nel suo continuo setacciare il mercato dei dischi dimenticati da molti, estraendoli dal cono d'ombra che li attanaglia e ripulendoli dalla polvere che li ricopre.
Sul lato A, gli Schaltkreis Wassermann, con lo zampino del misterioso Jean-Clone de Plastiq, partono subito a razzo. Esaurito il countdown, Space Shuttle – TV Series Soundtrack (12" Maxi Version) diviene un viaggio davvero galattico, con inserti di trasmissioni via radio. La sferragliante Fly With Us segue in scia, con un ritmo che, poco alla volta, si fa incalzante. E nella mente fanno capolino le immagini della sigla della serie tv "Supercar", marchiata da sonorità affini.
Non delude Why (12" Maxi Version). Una traccia che tende ad avvilupparsi su sé stessa ma, oltre un carattere inizialmente fumoso, alza il volume e aggiusta il tiro con una buona dose di percussioni. Sul lato B, l'apertura è dominata dalla Full Moon Night, con largo uso del vocoder, e Space Symphony, una gemma. Il suo battito è leggero e mai invasivo. Il senso di sospensione nel vuoto una costante. Il sogno, forse, troppo breve per essere vissuto fino in fondo.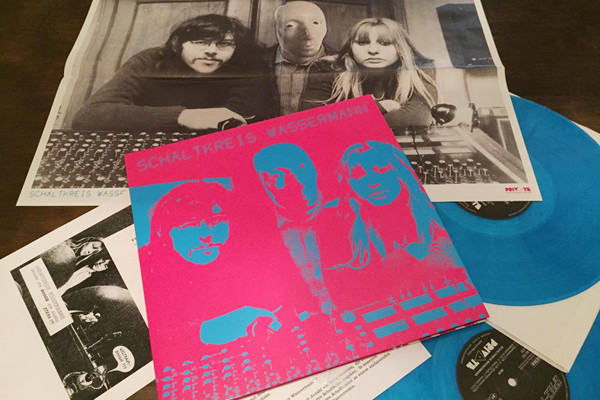 E il risveglio abbastanza brusco: Are They Really (12" Maxi Version). Dal trionfo dei sintetizzatori a una base quasi funk, il passaggio è godibile, con tanto di clap e ritornello in inglese facilmente ricordabile. Segue Time Is Tight, cover dei Booker T. & The M.G.'s, per un compresso sound proto-electro. Sul lato C, sorprende Hyperspace – TV Series Soundtrack, una cavalcata cosmic apparentemente senza sosta. Diretto contraltare di tanta potenza è Lux (Soundtrack Version).
Si tratta di una sorta di tool di sole percussioni non a tempo. Appare straordinaria, invece, Arabesque. Si precipita con dolcezza in un'altra dimensione. Basso, chitarra e sintetizzatori si alternano e si confondono nell'arco di sei melodici minuti. Dopodiché, una ripresa di Space Shuttle – TV Series Soundtrack (7" Single Version) e, sul lato D, un altro brano-manifesto degli Schaltkreis Wasserman: Sex Is Out, dedicata alle donne in menopausa. Con un passaggio simile a Trans-Europe Express dei Kraftwerk.
Subito dopo, Vierspur è meno ingessata in un involucro interstellare e più propulsiva. Diverte anche Space Lux, con i suoi ingranaggi lentamente in movimento su cui si ripete un pugno di note. Infine, Love In Space, brano cantato per un finale in sordina, tanto pomposo quanto romantico. "SKW" riporta così in auge un suono psichedelico derivante dalle frequentazioni del duo con Albert Hofmann, l'inventore del composto LSD. Per una piccola distorsione della realtà musicale.
New year, old Private Records. The intense catalog of the Berlin label is enriched by a mysterious title: "SKW" (2016), a collection of unreleased and extended versions of Schaltkreis Wassermann. The duo, made up of the Swiss Daniela and Peter Wassermann, was active in the early eighties, releasing an album, "Psychotron" (1982), on his own label, Space-Records, and a trio of singles. Then the pair of artists preferred to choose nicknames such as Eternal Bliss and Matterhorn to sign subsequent works.

All treated by a synth-pop matrix, music genre much in vogue at that time, and minimalist on a compositional plan. The heart of the project was, however, always mechanical. The same "SKW", the legitimate son of "Psychotron" recordings sessions, rests its solid foundation on a studio equipment composed by ARP 2600, ARP Avatar, Roland 100M, Sequential Circuits, Prophet V and, of course, Roland Space Echo. And the same pseudonym, Schaltkreiss Wassermann, is tied hand in glove with these machines.
Each synthesizer consists of a number of interconnected circuits that make up a larger, and complex, apparatus. In our Space-Sound-Studio we had a myriad of circuits connected to a global system: this was the Schaltkreis Wassermann (in Italian, 'Circuit Aquarium, editor's note). Here we could program synthesizers day and night and refine sounds like we wanted. We were also able to build our own equipment.

The electronic sounds concern us much closer to everything that is done with conventional tools. Some sounds seem to directly affect some parts of the brain and change immediately and in a sustainable way our self-consciousness. Electronic music was the total creative challenge for us. It was no longer the musician's virtuosity to be important, were only faster computers and fantasy, to imagine and create new sounds, remained central.

As composers, we did not need a symphony orchestra, because with the help of multi-track recorders could outline the most diverse soundscapes. And a drum should sound different from a set of acoustic drums. We wanted something new. We have therefore worked hard and long on our sound. We wanted that even after a dozen listens our music was still like a new discovery.
It is also a condition of the these days listeners ready to approach to "SKW". A double vinyl release edited by Janis Nowacki in detail and enriched with adhesive, liner notes and posters. Its packaging is impeccable. Nevertheless, the real mark for the label owner is in his continuous scour the market for records forgotten by many, extracting them from the haunting shadow and cleaning them from covering dust.
On side A, Schaltkreis Wassermann duo, with an help by the mysterious Jean-Clone de Plastiq, starts like a skyrocket. Out of the countdown, Space Shuttle – TV Series Soundtrack (12" Maxi Version) becomes a truly galactic journey, with inserts of radio transmissions. The clanking Fly With Us follows in the slipstream, with a pace that, little by little, becomes persistent. And in the mind peek out images of the TV show "Knight Rider" theme song, marked by similar sounds.
Why (12" Maxi Version) does not disappoint. A track which tends to wrap in on itself but, initially over a smoky character, turns up the volume and adjusts the shot with a good dose of percussion. On the B side, the opening is dominated by Full Moon Night, with a vocoder extensive use, and Space Symphony, a true gem. Its beat is light and never invasive. A constant the sense of suspension in the air. The dream, perhaps, too short to be fully lived.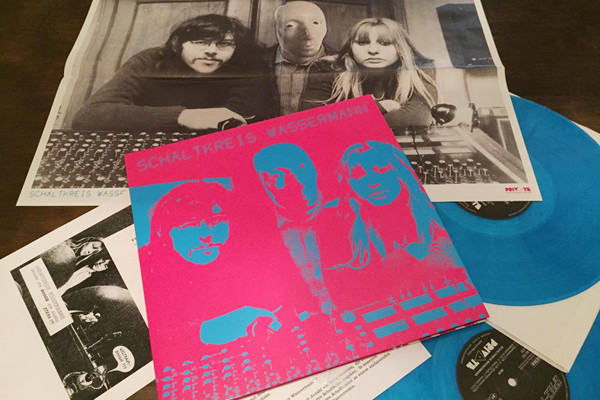 And a quite rude awakening: Are They Really (12" Maxi Version). From the triumph of the synthesizers to an almost funk base, the passage is enjoyable, complete with a clap and an easily remembered chorus in English. Follows Time Is Tight, cover of Booker T. & The M.G.'s, for a compressed proto-electro sound. On the side C, surprises Hyperspace – TV Series Soundtrack, a cosmic ride apparently without stop. Direct counterpart of such power is Lux (Soundtrack Version).
It is a kind of tool made by not in time percussions. It appears extraordinary, however, Arabesque. That makes you fall gently into another dimension. Bass, guitar and synthesizers alternate and mingle over six melodic minutes. After that, a resumption of Space Shuttle – TV Series Soundtrack (7" Single Version) and, on the side D, another Schaltkreis Wasserman song-manifesto: Sex Is Out, dedicated to menopausal women. With a passage similar to Kraftwerk's Trans-Europe Express.
Immediately after, Vierspur is less restricted in an interstellar shell and more propulsive. Space Lux is also funny, with its slow running gears on which an handful of notes is repeated. Finally, Love In Space, a sung track for end on the sly, so pompous as romantic. "SKW" revives a psychedelic sound which arise from the duo frequent meetings with Albert Hofmann, the inventor of the LSD compound. For a small distortion of musical reality.