Diciassette anni e diciassette giorni. È l'arco di tempo in cui si sono sviluppati i reati del 'mostro di Firenze': otto duplici omicidi avvenuti nella provincia di Firenze sconvolsero l'Italia. Le vittime giovani coppie appartatesi in cerca d'intimità, spesso all'interno di autoveicoli e, in un solo caso, in una tenda da campeggio. Luoghi isolati come stradine di campagna e piazzole nascoste, frequentate solo da guardoni. Le notti di novilunio di weekend estivi o prefestivi gli altri elementi ricorrenti.
Così come le armi: una pistola Beretta serie 70, calibro .22 Long Rifle, e un coltello a serramanico di derivazione sarda, strumento tipico per la pratica venatoria. L'ideale per scuoiare animali o martoriare il corpo delle donne una volta sparato ai loro uomini: in quattro degli otto casi, l'assassino asportò loro pube mentre, negli ultimi due, fu escisso anche il seno sinistro. Numerose le indagini volte a individuare i presunti assassini ma, tra il 1968 e il 1985, la psicosi fu collettiva.
La vicenda del mostro di Firenze ebbe grande risalto mediatico. Il primo serial killer tricolore era a piede libero e, considerata la tipologie di vittime, le paure dei genitori furono tali da innescare anche un dibattito sociale. L'opinione pubblica discusse, infatti, circa l'opportunità di concedere ai propri figli un maggiore utilizzo degli spazi domestici, in modo da evitare l'appartarsi in ambienti pericolosi. Nel frattempo, la polizia continuò a brancolare nello stesso buio in cui agiva l'assassino.
Le indagini si focalizzarono anche su un possibile movente di natura esoterica, che avrebbe spinto una o più persone a commissionare quei delitti. L'inchiesta della Procura di Firenze portò, infine, alla condanna in via definitiva di due uomini identificati come gli autori materiali di quattro degli otto duplici omicidi, i 'compagni di merende' Mario Vanni e Giancarlo Lotti, con un terzo uomo, Pietro Pacciani, condannato in primo grado a più ergastoli per sette delle otto doppie morti.
Sei mesi dopo l'ultimo caso, esce in pochi cinema italiani "Firenze! L'Assassino È Ancora Tra Noi" (1986), diretto da Camillo Teti, già produzione esecutivo de "L'Uccello Dalle Piume Di Cristallo" (1970) di Dario Argento. Un film girato a tempo di record e che prova a cavalcare l'onda emotiva dei delitti toscani. Uno slasher senza troppi fronzoli, salvato dalla censura, che lo vietò ai minori di quattordici anni, ma destinato a un prematura oblio: non fu mai proiettato a Firenze e dintorni.
Categorico il rifiuto degli esercenti cinematografici locali. Un insuccesso totale. Ebbe maggiore fortuna, invece, "Il Mostro Di Firenze" (1986), diretto da Cesare Ferrario e ispirata dall'omonimo libro (1983) del giornalista Mario Spezi, che, nonostante i tagli della censura, suggeriva sia una ricostruzione degli avvenimenti che un'analisi sul grande schermo della personalità dell'assassino, naturalmente prima delle lettere anonime, degli arresti e del compimento delle vicende giudiziarie.
"Firenze! L'Assassino È Ancora Tra Noi" puntava, piuttosto, su un soggetto più fantasioso, scritto dallo stesso Camillo Teti e da Giuliano Carnimeo, già regista de "Il Giustiziere Della Strada" (1983). Protagonista della pellicola una studentessa universitaria fuori sede che ha scelto la storia del mostro di Firenze come argomento della sua tesi di laurea, formulando diverse ipotesi sull'identità del serial killer. Il suo interesse la porterà, però, a essere al centro di fatti inquietanti.
Non mancheranno, infatti, inseguimenti notturni, lettere anonime, pedinamenti da parte di ignoti, telefonate mute e, per forza di cose, tanto sangue. Il budget a disposizione è, ovviamente, scarso. L'attinenza con le doppie morti del mostro di Firenze non è così necessaria. La cronaca nera si rivela semmai un ottimo sfondo in cui ambientare un delirante splatter, affatto documentaristico e più commerciale, colmo di corpi nudi, false piste e di interpretazioni non indimenticabili.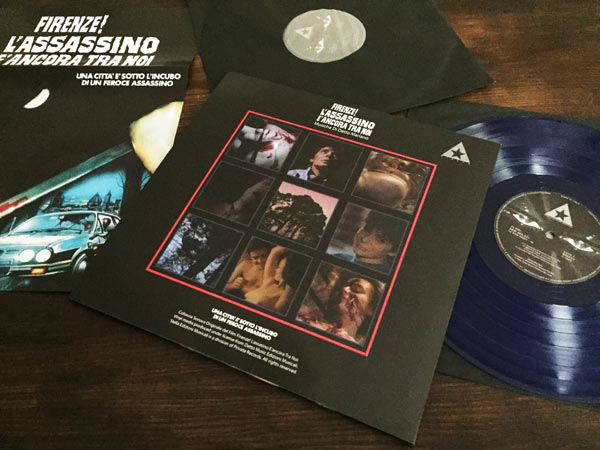 "Firenze! L'Assassino È Ancora Tra Noi" si avvale delle prove di Mariangela D'Abbraccio, sorella maggiore della pornostar Milly D'Abbraccio, Giovanni Visentin e Bruno Minniti, qui accreditato come Luigi Mezzanotte, accompagnate dalla partitura di Detto Mariano. La colonna sonora del compositore marchigiano è rimasta inedita per trent'anni, finché la solita Stella Edizioni Musicali, così come accaduto mesi fa con "Striker (Film Sonoro)" (2016), non ha deciso di tramandarla ai posteri.
L'edizione in doppio vinile, disponibile anche di colore blu, di "Firenze! L'Assassino È Ancora Tra Noi" (2016) è abbastanza singolare perché, le prime due facciate ripercorrono le sequenze sonore così come proposte durante la pellicola, tra divagazioni elettroniche e vari rumori di scena, per consentire all'ascoltatore di riviverla a pieno. Le seconde due ricostruiscono, invece, alcuni dei brani portanti, rimasterizzati per l'occasione da Josep Llobell Oliver, più alcune bonus track.
Il lato A prende il via con la psichedelica M_01, una traccia cantata, tra spari e urla. Anche M_02 presenta un tratto vocale che, però, non cresce in intensità. L'equipaggiamento pionieristico di Detto Mariano si rivela adatto per punteggiare la tensione. Oltre M_03, un breve interludio di sole percussioni, M_04 si pone come brano spartiacque. Romantico, pop, inframezzato dal dialogo fra gli attori. Un excursus acustico in pieno clima di terrore che, di fatto, ritorna prepotente in M_05.
Stridula anche M_06. Se M_07, con testo in inglese, riprende una conversazione telefonica, M_08 recupera la trasmissione radio ascoltata all'interno di un'automobile. M_09 un gradevole passaggio atmosferico, con gli archi in background e le percussioni a scandire lo scorrere del tempo. In M_10 si odono note di xilofono. M_11 scorpora il tema iniziale di alcuni elementi. Straziante M_12, curiosa M_13, con una successione di differenti elementi sonori, tra basso e campanelli.
Il lato B paga subito il suo tributo a un altro maestro dell'horror sound, Fabio Frizzi, con il coro di voci M_14. Profonda la successiva M_15, con grida, onde sonore a vuoto e il carillon. M_16 uno svolazzo. Nonostante alcune risate, M_17 fa luce su un discorso su medicine e morti. Retaggi drone in M_18 e in M_23, mentre M_19, M_20 e M_21 riservano altri suoni estratti dal film: spari, acqua che scorre, il pianto di una donna, respiri affannosi e una voce che scandisce il nome Antonella.
In M_22 ritorna, stavolta in mono, la solita musica che rimanda a paradisi tropicali, interrotta all'improvviso dall'immancabile carillon, dalle percussioni e da nuovi colpi esplosi. Intensa anche la conclusiva M_24, una specie di cortocircuito elettronico. Il lato C propone il tema L'Assassino È Ancora Tra Noi (Main Theme) in tutta la sua lunghezza. La dolce Così O Niente, per chitarra e pianoforte, è tratta dalla trasmissione tv "Tutto Compreso" (1981) e cantata da Titty Cercelletta.
Le sorprese del virtuoso compositore non finiscono qui. Le tracce che seguono sono tutte arrangiate da Detto Mariano. La solare Where Clouds Could Never Fly, già riproposta sotto mentite spoglie, si affida alla voce di Zack Ferguson. Al di là di Così O Niente (Instrumental), ridotta al mero bridge, Couldn't You Imagine è la sua versione in inglese. La canzone di Rossana Casale, accreditata come Annette Hillmann, era sovrapposta ai titoli di testa della serie tv "Mille Non Più Mille" (1979).
Il lato D offre un'altra versione del tema L'Assassino È Ancora Tra Noi, con apertura atmosferica. Dopodiché, è il turno World X di Angella Dean, inserita in "Let's Go Space IV" (2015) su Private Records, una disco hit in Francia. La canzone It's Me, interpretata da Claudia Mori, era parte, invece, della soundtrack di "Culastrisce Nobile Veneziano" (1976). La versione alternativa e quella strumentale di Couldn't You Imagine chiudono in bellezza l'ennesimo imponente recupero sonoro.
Seventeen years and seventeen days. It is the period of time in which have developed the crimes of the 'Monster of Florence' are connected: eight double murders that occurred in the province of Florence shook Italy. The victims were young couples in search of intimacy, often in cars and, in one case, in a camping tent. Isolated places such as country lanes and hidden ones, only frequented by voyeurs. The nights of the new moon of summer weekends and holiday eves other recurring elements.
As well as weapons: a pistol Beretta 70 series, caliber .22 Long Rifle, and a Sardinian switchblade, typical instrument for hunting. Ideal for skinning animals or torturing women's bodies once fired their men: in four of the eight cases, the murderess take away their pubic while, in the last two, was also excised the left breast. Numerous investigations tried to identify the alleged killers but, between 1968 and 1985, psychosis was collective.
The story of the monster of Florence had a great media coverage. The first tricolor serial killer was on the loose and, considered the types of victims, fears of the parents were also likely to trigger a social debate. The public talked about, in fact, about the opportunity to grant their children a greater use of domestic spaces, in order to avoid the secluding in hazardous environments. Meanwhile, police continued to grope in the same darkness in which acted the murderess.
The investigations wee focused also on an esoteric way, which would push a person or persons to commit the murders. The inquiry by the Procura di Firenze led, finally, to the conviction of two men definitively identified as the perpetrators of four of the eight double murders, the 'partner in crime' Mario Vanni and Giancarlo Lotti, with a third man, Pietro Pacciani, convicted in first instance to multiple life sentences for seven of the eight double deaths.
Six months after the last case, it comes out in a few Italian cinema "Firenze! L'Assassino È Ancora Tra Noi" (1986), directed by Camillo Teti, former executive production of "The Bird With The Crystal Plumage" (1970) by Dario Argento. A film shot in record time which tries to ride the emotional wave of Tuscan crimes. A slasher with no frills, saved by the censors, who banned it to children under fourteen years old, but destined to a premature oblivion: it was never screened in and around Florence.
Categorical the refusal of local exhibitors. A total failure. It had better luck, however, "Il Mostro Di Firenze" (1986), directed by Cesare Ferrario and inspired on the book (1983) by journalist Mario Spezi, that despite the censorship cuts, suggesting both a reconstruction of events and an analysis on the big screen of the killer's personality, of course, before the anonymous letters, the arrests and the fulfillment of the legal proceedings.
"Firenze! L'Assassino È Ancora Tra Noi" was aimed, rather, on a more imaginative subject, written by Camillo Teti and Giuliano Carnimeo, former director of "Exterminators Of The Year 3000" (1983). Movie protagonist was a college student away from home who chose the story of the monster of Florence as the subject of her thesis, formulating different hypotheses about the identity of the serial killer. Her interest in the lead, however, set the girl at the center of some disturbing facts.
There will, in fact, nocturnal pursuits, anonymous letters, surveillance by unknown assailants, mute phone calls and, inevitably, a lot of blood. The available budget is, of course, poor. The relevance to the double deaths by the Monster of Florence is not so necessary. Crime news reveals a great background where a delirious splatter could be set, not documentary and more commercial, full of naked bodies, false leads and no unforgettable performances.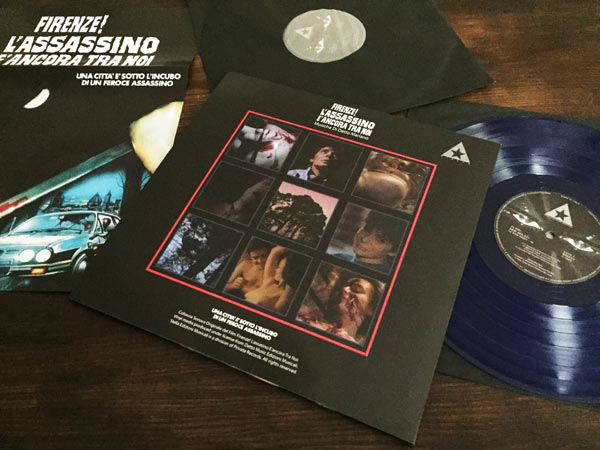 "Firenze! L'Assassino È Ancora Tra Noi" makes use of the interpretations by Mariangela D'Abbraccio, older sister of porn star Milly D'Abbraccio, Giovanni Visentin and Bruno Minniti, here credited as Luigi Mezzanotte, accompanied by the score of Detto Mariano. The soundtrack of the Italian composer remained unpublished for thirty years, until the usual Stella Edizioni Musicali, as happened months ago with "Striker (Film Sonoro)" (2016), decided to hand it down to posterity.
The double vinyl edition, also available in blue, "Firenze! L'Assassino È Ancora Tra Noi" (2016) is quite unique because the first two facades trace the sound sequences as well as proposed throughout the film, including electronic digressions and various noises of the scene, to allow the listener to fully relive them. The second two reconstruct, however, some of the load-bearing tracks, remastered for the occasion by Josep Llobell Oliver, plus some bonus tracks.
Side A kicks off with the psychedelic M_01, a track sung, between gunfires and screams. Even M_02 presents a vocal tract which, however, does not grow in intensity. The pioneering equipment of Detto Mariano is suited to punctuate the tension. Besides M_03, a brief interlude made by percussions, M_04 stands as a watershed song. Romantic, pop, interspersed by the dialogue between the actors. An acoustic excursus in full climate of terror that, in fact, returns bully in M_05.
Shrill M_06. If M_07, with text in English, takes again a phone conversation, M_08 recovers the radio transmission heard in a car. M_09 a pleasant air passage, with the strings in the background and the drums to mark the passage of time. In M_10 you can hear notes of xylophone. M_11 spins off the initial theme of some elements. Heartbreaking M_12, curious M_13, with a succession of different sound elements, including bass and bells.
Side B pays immediately its tribute to another master of horror sound, Fabio Frizzi, with the chorus of voices M_14. Deep the next M_15, with shouting, vacuum sound waves and the music box. M_16 a flourish. Despite some laughs, M_17 sheds light on a speech about drugs and deaths. Drone atmospheres in M_18 and M_23, while M_19, M_20 and M_21 reserve other extracts sounds from the movie: gunfires, water flowing, the cry of a woman, gasps, and a voice that articulates the name Antonella.
In M_22 returns, this time in mono, the same music referred to tropical paradises, suddenly interrupted by the inevitable chimes and percussions and new shots fired. Intense also the concluding M_24, a kind of electronic short circuit. Side C proposes the theme L'Assassino È Ancora Tra Noi (Main Theme) in all its length. Sweet Così O Niente, for guitar and piano, is taken from the tv show "Tutto Compreso" (1981) and sung by Titty Cercelletta.
The virtuoso composer surprises do not end there. All the tracks that follow are arranged by Detto Mariano. The solar Where Clouds Could Never Fly, many times listened in disguise, relies on Zack Ferguson voice. Beyond Così O Niente (Instrumental), reduced to a mere bridge, Couldn't You Imagine is its version in English. The song of Rossana Casale, credited as Annette Hillmann, was superimposed on the "Mille Non Più Mille" (1979) tv serie opening credits.
Side D offers another version of the theme L'Assassino È Ancora Tra Noi, with an atmospheric opening. After that, it is the turn of World X by Angella Dean, present on the compilation "Let's Go Space IV" (2015) on Private Records, a disco hit in France. The song It's Me, played by Claudia Mori, was part, however, the soundtrack of "Lunatics And Lovers" (1976). The alternative and the instrumental version of Couldn't You Imagine close with a flourish another great sound recovery.